Earthbreakers Teaser Trailer Mixes FPS And RTS | Screen Rant
Posted 2019/12/0460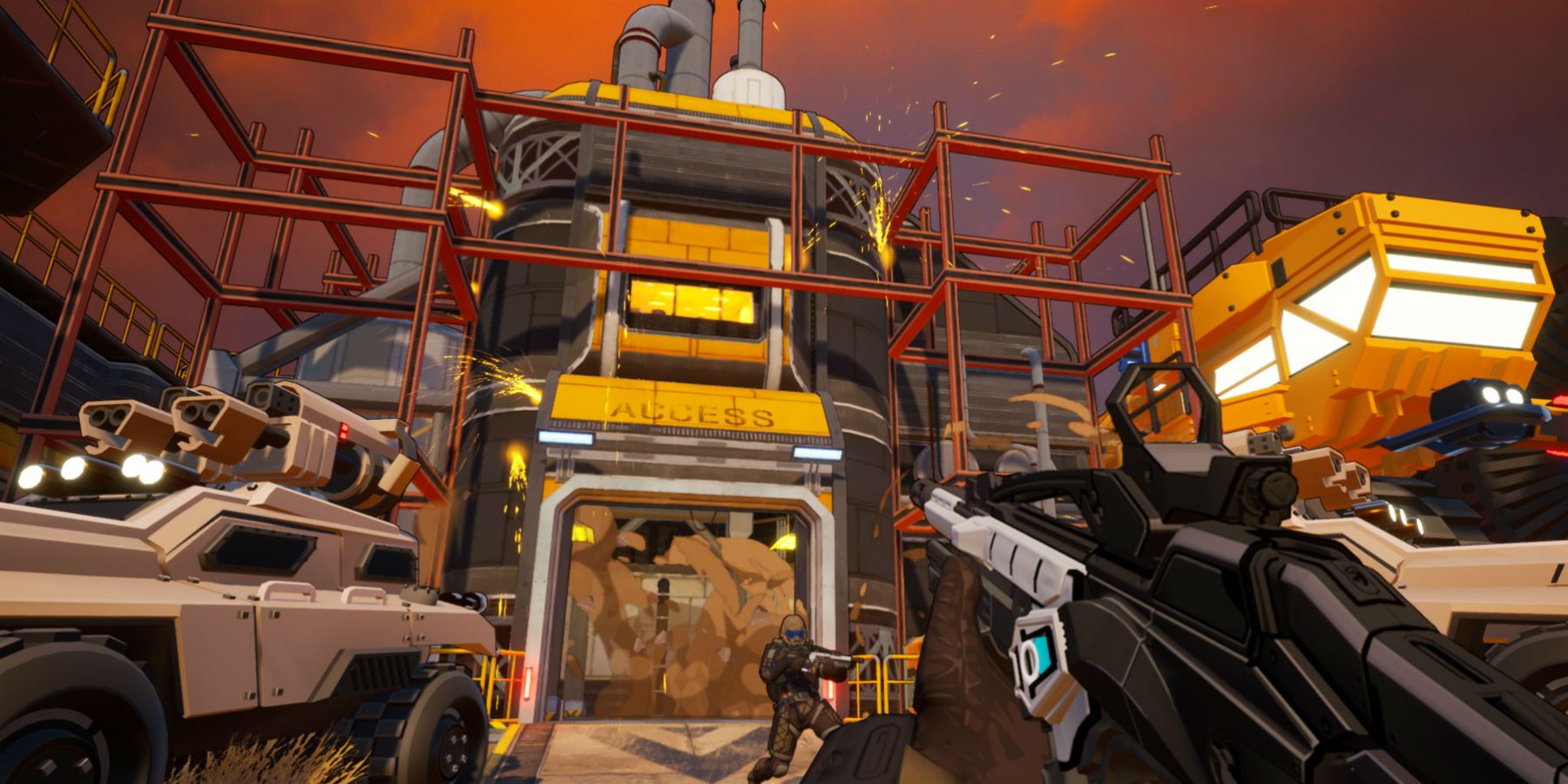 The teaser trailer for the upcoming game Earthbreakers reveals a blend of first-person shooter and real-time strategy, with a comic book art style. Earthbreakers' developer, Petroglyph Games, previously developed the popular RTS games Grey Goo and Star Wars: Empire at War. The team was started by former members of Westwood Studios, the developer of Command & Conquer.
Earthbreakers won't be the first game to combine the FPS and RTS genres, but it's not very common. One of the most popular FPS/RTS hybrids was 1998's Battlezone, and the best known recent example is probably Natural Selection 2, which was released in 2012. There are a number of promising FPS/RTS games either on the horizon or in early access, including Disintegration, which was revealed at Gamescom 2019. While it might not be the most popular genre around, Earthbreakers likely won't feel totally unfamiliar to new players. Plenty of shooters have included some mechanics traditionally reserved for RTS games, including Fortnite's building component.
Related: Half-Life: Alyx Trailer Confirms Valve's VR Game Releases March 2020
The trailer for Earthbreakers shows players gathering resources, building bases, purchasing new units, and attacking an enemy base. According to the game's Steam page, each building has a specific purpose, such as allowing players to create a new type of vehicle or play as a different class. Earthbreakers seems to go out of its way to encourage good teamwork, requiring several players to work together to construct most of its buildings and including classes that complement each other. While it's not clear yet if its classes will be as varied as the characters in a hero shooter like Overwatch, there will be support classes such as the Technician, which will focus on repairing equipment and backing up teammates rather than fighting on the front lines. The most powerful classes can only be unlocked by expanding the base.
In the world of Earthbreakers, a system of satellites known as the Earthbreaker Project is used to expose deposits of a new energy source called Vilothyte. When the satellites are taken over by hackers, they start targeting civilian centers, leading to society's collapse. Earthbreakers' maps will be based around the sites where Vilothyte is exposed, with opposing teams battling to harvest as much of it as they can. Players can even use the Earthbreaker satellites to call in strikes on the enemy's base, which will presumably take a lot of coordination between teammates.
Petroglyph certainly has enough experience with RTS games, both through its original titles and Command & Conquer Remastered, which it's working on for EA. The question with Earthbreakers will be how well it's able to handle the FPS side of the equation. That question will be answered relatively soon, though, as Earthbreakers is set for a 2020 release.
Next: Wasteland 3 Gets 2020 Release Date (and A New Trailer)
Earthbreakers is scheduled for a 2020 release for PC via Steam.
Source: Petroglyph Games/YouTube, Steam